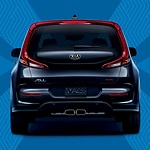 The Kia Soul will be an exciting model for you to own. Equipped with exciting technology features and efficient powertrains, the new Soul has a lot to appreciate. Along with six trim levels, choose between the many additional packages that are available for the new Kia Soul.

Engine Performance

Take your pick between two engine layouts for your Kia Soul. The standard 2.0-liter four-cylinder engine that is offered produces 147 horsepower and 132 pound-feet of torque. The power output of the Kia Soul is increased with its optional turbocharged 1.6-liter inline-four cylinder engine, which produces 201 horsepower and 195 pound-feet of torque.

Entertainment

The Kia Soul is an entertaining compact SUV, and its technologies increase that characteristic even more. The Soul can be equipped with either an 8.0-inch touchscreen display or a larger 10.3-inch touchscreen display. Apple CarPlay and Android Auto are both standard across the Soul's lineup.