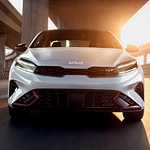 Our crew at Kia of Laurel are always welcoming and offer excellent customer service that is incompatible with that provided by our competitors. We have always offered people in this city with all range of vehicles to leave none behind whether looking for expensive or cheap cars.
Among the cheap vehicles in our store is the Kia Forte. The Kia Forte is available in different colors and has a variable speed- automatic transmission. It comes with a basic warranty of 5 years or 60 000 miles. It also has airbags and an ABS, which makes you feel protected in case of any bump along the way.
In-car entertainment ensures that you never get bored while on the road. Forte has a gas engine type, and it is a four-wheel-drive vehicle. Kia Forte has a combined mpg of 33, making it economical to drive around the city.