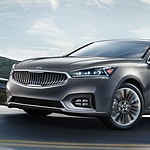 The Kia Cadenza is the embodiment of precision and strength. The elegant full-size sedan is perfect for family road trips or the daily business commute. Both the exterior and interior are designed to empower the driver and passengers.
When you first see the Kia Cadenza, you'll notice the unique shape of its grille. Its concave shape is surrounded by z-shaped LED headlights. Chrome accents on the back and sides of the vehicle complete the eye-catching display. Inside the Kia Cadenza, the heated front and rear seats will warm you up during the coldest months of the year. In the summer, open the panoramic sun roof to let in a welcome breeze as you speed down the highway. The combination of Napa leather-trimmed seats and wood grain accents gives off whiffs of luxury.
You can take the Kia Cadenza for a test drive when you visit us at Kia of Laurel.